You will notice that Tx Senator Wendy Davis is displayed between two actresses on this poster. She is the left's celeb du jour and riding her fifteen minutes for all it's worth. Frankly, I don't blame her. If this was the hill on which I chose to die, I'd do the same. This will all be over soon enough and she will have to wait for the next hot button issue on which to filibuster next session, assuming she is re-elected or not running for another office.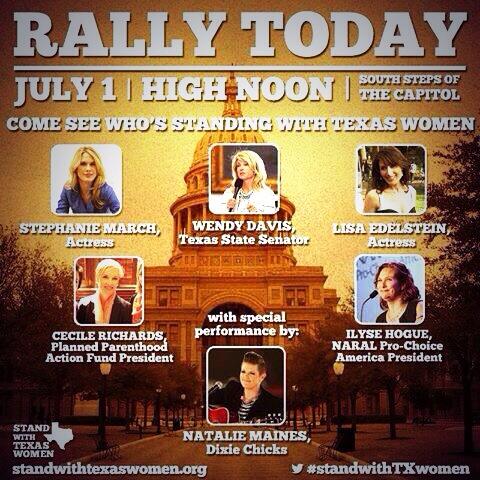 So, I had to look up these Actresses noted here and found that, according to Wikipedia, Stephanie March
"
is an American actress, best known for her portrayal of Alexandra Cabot on the television series Law & Order: Special Victims Unit." She is also married to celebrity chef Bobby Flay. And then I looked up Lisa Edelstein. According to Wikipedia, she is an actress and playwright and was on the tv show House. OK, I was a fairly regular viewer for House. She does look familiar now.
Cecile Richards is the daughter of former Texas Governor Ann Richards. You may remember her as the woman who is known for her "silver foot in his mouth" remark of George W. Bush at the Democratic National Convention, just before he soundly beat her to become Governor of Texas. Cecile is using this moment in the spotlight to fundraise for Planned Parenthood, the organization she went on to head up. The presence of NARAL is no surprise, as it's their issue and also a tool for fundraising. Natalie Maines? She used to be a Dixie Chick and apparently in need of some press now.
I continue to marvel at this whole fiasco - which is exactly what this debate has turned into. I see this hot button issue bringing women of all stripes politically together to voice deep concerns over a woman politician making this issue - the issue of infanticide - her glory moment in her own political career. I see it in my own thought process. I, along with many women who have a strong Libertarian streak when it comes to social issues, wrestle with the choice issue and then when it goes over into infanticide, well, that is beyond justifying. For Wendy Davis to go on television and bask in the attention from national media over availability of late term abortions - those in the third trimester - and call out other politicians by making claims that the others are using the issue for political gain is a joke. No one outside of her own district knew the name of Wendy Davis until she became a hero to the national media last Tuesday night, except for political geeks. The only other time she garnered attention was when she led a filibuster against an education bill in the last session - in 2011. Then she enjoyed a rather lengthy article in the New York Times. This is how Wendy Davis advances her own political career - via filibuster in the Texas State Senate.
So, the pro-life supporters have an online letter/petition thingy now thanking Senator Davis for her pro-life actions in her own life. It is good to see conservatives turning the rhetoric and actions of the left into positive action instead of just complaining without offering an alternative.
Something to also note: Cecile Richards is married to THIS GUY and that ties nicely into the organized crowds protesting the SB1 bill in the second special session. There is nothing spontaneous about the protesting from the supporters of third trimester abortions and lax regulations on storefront clinics performing abortions.
Hearings begin in the Texas Senate Monday for the SB1 legislation.